HOME OUR DOGS PUPPIES CO-OWNS FAMILY ABOUT US INFO FUN&GAMES LINKS
Our other interests include martial arts,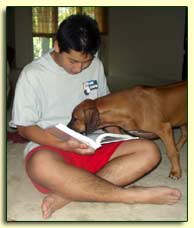 homeschooling, photography and violin.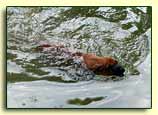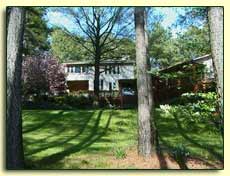 We live in a small enclave of country in the middle of Cary, North Carolina, just outside Raleigh. Here is a picture of our home taken from the pond.
They say that landscaping and dogs don't mix, but they do pretty well together. What doesn't mix is maintenance of landscaping and dog shows -- especially when they are held every weekend....
Who we are
Julia and Bradley Jones, Cary, NC 27513 (USA)
(919) 466-7084 www.sengei.com sengei@aol.com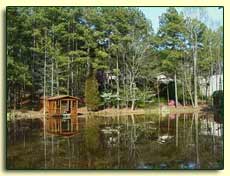 Here is our pond. None of our adult dogs were raised here, so they don't like to swim. But the puppies plunge in -- it's what you get used to. Sometimes I think the older dogs don't swim because we never expected them to.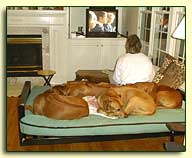 We like to do things together. With ridgebacks, that means everything (or should, according to the rrs).